Scott Rimmer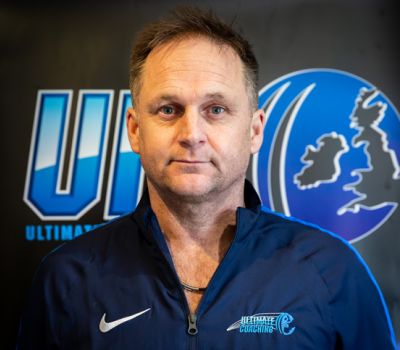 Founder & Managing Director
Scott Rimmer founded Ultimate Coaching in 2014.
Scott has 27 years' Education & Coaching experience, starting his journey within the United States supporting programmes in New Jersey, Long Island& Rhodel Island.
Following graduation Scott was instrumental in developing programmes across 3 professional clubs namely Brentford FC, Fulham FC and Chelsea FC. Scott spent 10 years at Chelsea developing his craft with coaching but also Talent ID, which included the recruitment of an England U16 International – Connor Hunte.
Scott's vision is to continue to inspire and enrich children`s lives through sports education & coaching. With the support of his team he wishes to provide the highest level of sports education & coaching to learners and schools to help them thrive and be the best they can be.
Over the past 10 years Scott has been proactive in helping launch numerous Coaching Academies, and been a positive force in supporting many schools with PE Solutions & school sport strategy.
Recent Achievements:
Founder & Head of Coaching Graeme le Saux Football Academy, Elba, Italy 2012
Founder & Head of Coaching Halkidiki Football Academy, Greece, 2013
Co Founder Sutton United Football Academy 2015
Founder of Ultimate Football Academy 2016
Scott has an Honours degree in Sports Studies & Coaching, holds the UEFA B coaching licence and is also FA Welfare qualified.