Skill Development & Elite Centres
What is the 3 tier Skill Development Programme?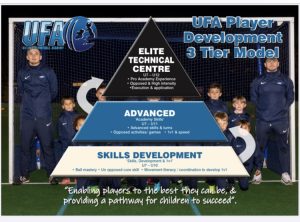 Our development model has a proven 3-tier framework that is inclusive to all children aged 6 – 12 years. We offer an enrichment programme for Development, Advanced Technical and Elite Pre Academy that offers a clear pathway for all children with aspirations.
The model is based around the principles within 1v1 which encompasses ball mastery, movement literacy, and technical application. We provide the highest level of coaching and instruction to allow learners to thrive and be the best they can be. We encompass every aspect of physical & technical activity, football fitness and mental wellbeing.
The sessions are offered to young players that want to be the best they can be.
Each tier designed for the individual learner.
Small groups to enable increased coach interventions.
More intimate environment for children to improve confidence, develop problem solving, reflect on performance and set personal goals.
Exciting & modern curriculum to help players master core skills
Small groups ensure maximum ball rolling time and increased touches.
More decisions
Advanced skills to support Professional Academy aspirationsOur method enables clearer measures of success.
| TPC Venues | Days | Times |
| --- | --- | --- |
| Ockham Cricket Club | Mondays | 6pm - 7pm |
If you would like more information, please call 01483 488212. A member of our team will be more than happy to help and provide additional information.
Recruitment
We work closely with grassroots teams and school environments in identifying suitable players that possess the technical proficiency and the correct mentality and would therefore benefit from professional football coaching.
Each child that is identified and selected is offered a complimentary session to ensure he/she meets demonstrates the key elements through technical practices, opposed games and small sided game scenarios.
Testimonials
''Charlie has been training with the UFA Elite for 12 months now and I have seen a huge improvement in his touch and decision making and his confidence is growing every week. He has really benefitted from the excellent coach to player ratio and the direct and involved coaching. I look forward to watching his progress and growth going forwards ''
James Thompson (parent)